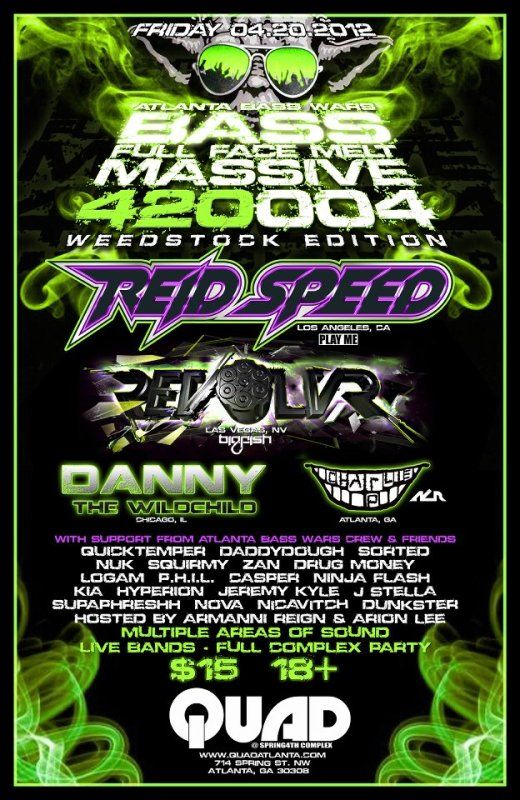 ATL BASS WARS FULL FACE MELT MASSIVE 420.004 / WEEDSTOCK 420
REID SPEED.....REVOLVR......DANNY THE WILDCHILD.......CHARLIE P
$15 PRESALE Limited Priority Admission (bypass regular line)
http://www.wantickets.com/weedstock420
$15 general admission
$20 priority entrance (bypass regular line).
Age 18 and up.
Moving along now! The last 3 shows have melted so many faces that we have 10 new cosmetic surgeon sponsors! We've got a full complex show, combining our powers with WEEDSTOCK 420, this is bound to be the… wait, what? I don't remember what I was going to say….
Oh yeah, combining Bass Full Face Melt Massive 5000 shows, with the WEEDSTOCK 420 event is going to be a Bass Full Face Melt Massive 420.004! We've got multiple headliners as usual, and a new low hitting sound system, sure to melt your whole upper body this time around!
We've got Reid Speed, Revolvr, Danny The Wildchild, and Charlie P and a whole ton of other great artists. Plus within the Spring4th Center there will be Live Bands, and all sorts of chill areas! WOAHHH
Get here early so you don't miss any of this massive show.
Anyone who bought an advance ticket gets priority entrance.
***********
REID SPEED
Los Angeles CA
[EARPUSSY GIGOLO EXTRAORDINAIRE. PLAY ME RECORDS / PLAY ME TOO BASS BOSS]
http://www.soundcloud.com/reidspeed
http://www.facebook.com/djreidspeed
http://www.twitter.com/reidspeed
Reid Speed has been a dance floor destroyer for over a decade and is recognized worldwide for her skillful ability to throw down all genres of bass music in transcendental manner. Since 2001 she has released a consistent stream of well received mix compilations and a slew of well charting original and group productions and remixes of many genres: drum & bass, 2 step, breaks, fidget house, electro, dubstep and even moombahcore.
She is now most known for helming the Play Me Records and Play Me Too brands. 2011 saw her produce and co-headline the US portion of the groundbreaking Play Me Records Bass Monster Tour with FS & Cyberoptics, which received a tremendous Stateside response and was sponsored by Beatport. The tour spawned a #2 charting hit of the same name ("Bass Monster") by Reid & FS as well as their "Pussy Weed Money" Remix of "Die Famous" for Burn the Fire which also clocked in at #2. The success of the US portion of the tour has resulted in an upcoming Play Me Bass Monster Europe Tour, which will lead the brand and Speed to Europe in 2012 with Dubsidia, The Unik and Tha Trickaz.
In just over 2 years, Play Me Records and Play Me Too have indisputably taken the Beatport charts by storm, with a string of #1, top 10s, and nearly every release charting in the top 100. They have broken more new artists than any other label of its kind, helping to launch the careers of artists like Cyberoptics, FS, J. Rabbit, Run DMT, Twist, Bassex, Dubsidia, and Bare, to name just a few. 2010 saw Play Me Records voted Dubstep Label of the Year by Beatport and Symphonic Distribution.
Reid got her start in the New York City underground working behind the counter at the legendary Breakbeat Science record store. A chance trip to the UK in the summer of '97 led to her love affair with 2 step and speed garage. As one of the first US DJs to champion these genres (which morphed into todays's fidget house and dubstep), both Reid and Play Me's steady climb come as no surprise to those who know her history. Soon after she began DJing full time she was holding residencies with Stuck on Earth, Direct Drive & Camouflage while in college at the School of Visual Arts. Producing tracks for and with likes of Ming & FS and Le Tigre came along soon after, along with involvement in a seminal series of parties that introduced artists like Deekline, MJ Cole, & Stanton Warriors to the NYC underground. Signing to Breakbeat Science's label in 2001, she released her first mix "Resonance" to much critical acclaim, and successfully followed it up with 2003's "Life After Dark." On subsequent tours with Om artists Ming & FS and Colette, and on her own CD release tours, she has honed her precise genre mashing mixing skills and developed a synergy with her crowds that is unmatched. Those who have listened to her mixes or seen her live agree, whether controlling the floor, in the studio, or behind the decks, Reid pushes the music forward every step she takes
REVOLVR
http://www.facebook.com/revolvr
Whether it's through an irresistible house music hook or propulsive progressive production, the Las Vegas-based artist and producer specializes in igniting emotions. Hands go up in the air and bodies shake when his fusion of styles pipes through the speakers. Locked and loaded with numerous tricks up his sleeve, Revolvr has arrived on the scene with a big bang.
Revolvr a.k.a. Touvan Sughiarto officially entered the electronic music world in 2011, but the genre has been a part of his life for as long as he can remember. A fan of The Prodigy and Crystal Method during his high school years, Touvan relocated from The Bay Area to San Diego to finish college, where he perfected his skills on the decks. While, a detour into the corporate world post-college delayed his eventual destiny, a sunrise at 2010's Burning Man festival changed everything.
"I was watching the sun come up, and something overcame me," recalls Revolvr. "It was like I got slapped in the face. I knew that I needed to be doing music. I wasn't happy in the corporate environment even though I was doing well in it. I wanted to walk away from everything I was doing and chase what I loved. I went home, quit my job, camped out in the studio for four months, and found my sound."
That sound immediately became embraced by fans, contemporaries, and critics alike. His very moniker sums up its diverse nature. He reveals, "Revolvr doesn't reference a gun. The name points to the fact that my style revolves around so many different aspects of music. I take what I feel I connected to in each genre and infuse that into my own work, whether it's a remix or an original production."
Collaborating with Donald Glaude, he dropped an incendiary and infectious remix of Scooter and LaVelle's "Beats Inside My Head" that set Beatport ablaze. Spreading like wildfire, "Beats Inside My Head" peaked at #2 on the site's Electro House Chart and #16 on the Overall Chart. Meanwhile, Tiësto added the track to his podcast and the live set of his mega-successful Club Life tour, exposing the remix to thousands nightly. It was Revolvr's first bona fide hit.
About the track, Revolvr explains, "I connected with the song. The lyrics were catchy and I wanted to create something equally catchy musically. Once it exploded, I felt pretty good about my decision to focus on music 100 percent."
Simultaneously, he dropped an original track entitled "Warface" that skyrocketed up Beatport's overall chart to #10 and infiltrated XM Radio and other platforms. For 2011, his Beatport Chart Rate was 100 percent. Within a short year, all of those numbers rose drastically. Facebook likes exceed 15k, Soundcloud plays are approaching 200k, and YouTube views are over 300k. Beyond that, his remix of Florence + the Machine's "You've Got Love" landed at #1 on Hype Machine.
Soon, Chuckie, Zedd, Above & Beyond, Porter Robinson, Lazy Rich, Steve Aoki, Laidback Luke, Tommy Lee & DJ Aero were incorporating his music into their live sets, playlists, and podcasts. However, that was merely the beginning.
Revolvr's 2012 single "The Beat Goes On" already illuminates another evolution for the artist. Coupling a colorful sample with sexy and slippery synths, it's a bona fide dance floor banger. "I took that sample from an interview with Randy 'Macho Man' Savage'," smiles Revolvr. "I wanted to do something different. There's a progressive vibe, but it's an electro track. It touches on a variety of sounds. The beat does go on, and I want to roll with it."
Then, there's Revolvr's remix of Morgan Page's "Body Work" [Featuring Tegan and Sara]. The track is part of Page's latest effort, In the Air, as a bonus cut. It also shows another side of the artist as he expands into a skittering dubstep groove. Other remix highlights include a unique take on Luciana's "I'm Still Hot", which hit #1 on Billboard's Dance chart.
On stage, his music really comes to life. Boasting a show comprised of mostly originals, he's played to packed crowds at Los Angeles's famed Avalon, Orange County's Yost, WinterFest 2012, Tulare Festival, Sugar Festival, and more. "I want to create an experience for people," he adds. "I like to see everyone jumping. My set is like a roller coaster. Everyone is along for an amazing ride."
Ultimately, that ride is only going to get even bigger and better. He concludes, "I'd love for people to walk away feeling some sort of connection to the show or music. I hope the last thought they have is, 'I can't wait to hear that again'."
DANNY THE WILDCHILD
http://www.facebook.com/pages/Danny-...15971325117979
Danny the Wildchild aka Daniel Garcia was born on the South side of Chicago in 1977. The brother of a once aspiring DJ, he keenly watched and quickly learned the tricks of the trade. Danny began djing at age nine soon surpassing his brother's abilities and eventually inherited his equipment and records. At twelve, Danny entered a Chicago area contest for young DJ's and won. He took home that fifty-dollar prize and was called "The Wildchild" from that day forward. Although Danny's roots were as a Hip-Hop DJ, he was eventually introduced into the Chicago Rave scene and to the world of drum-n-bass. He enjoyed this new form of music, but also loved hip-hop and began to creatively blend the two genres creating a unique sound of his own. As Danny's turntable talents grew, he began to incorporate scratching and DMC style battle tricks into his Drum-n-Bass sets. His precise mixing skills and unique style and sound gave him the opportunity to bring Drum-n-Bass into the DMC and Hip-Hop scenes. Danny's recognition has earned him a collection of praises from domestic and international magazines such as Mixer, Thousand Words, Faqt, and Lotus to name just a few. Danny was also featured as one of the people making waves in the scene in Urb's Next 100 Artists to Watch Issue. Today Danny has become one of the most valued U.S. Drum-n-Bass DJ's. His unique blends of jungle and Hip-Hop beats and amazing scratching and beat juggling have proved to be show stopping. His talents have brought him to perform in venues worldwide and opening up for such acts as Eminem, Method Man, The Jungle Brothers, De La Soul, Moby, Goldie, MixMaster Mike and The Pharcyde. Danny also toured extensively throughout Europe with DJ Q-bert in 2002 (see djqbert.com). Although most weekends he is on the road, he still has time to host the 12midnight slot on Chicago's Alternative Radio station Q101FM and is gotten back in the studio. In March, the Wildchild released a follow-up to his 1999 12" release on Bad Boy Bill's Canvas label. His first effort at mix CD culminated in the release of "Danny The Wildchild: Booked" (March 2001). The Wildchild's was the first in a series of "Booked" CD's from Chicago's Strictly Hype Recordings. This was followed by the successful release of his latest CD in 2002 on Surge Recordings entitled "Fully Sorted".
CHARLIE P
Biography
Listen to music by Charlie P. at these sites:
http://www.soundcloud.com/charliep
http://youcharles.bandcamp.com/
http://www.pandora.com/music/artist/charlie+p
http://open.spotify.com/album/3zWLxt3OKXBkbhcv95Y2vF
__________
Buy music by Charlie P. at these sites:
http://itunes.apple.com/us/artist/ch...p./id409696400
http://www.beatport.com/artist/charlie-p/66102
__________
Stay connected with Charlie P. here:
http://www.facebook.com/charliepalr
http://www.soundcloud.com/charliep
http://www.twitter.com/cpazinets
http://www.twitter.com/ALR_ATL
http://www.last.fm/music/charlie+p
.
__________
Check out Charlie's other projects and friends music on
Abstract Logic Recordings:
http://www.abstractlogicrecordings.com/
http://www.facebook.com/pages/Abstra...42896225742831
http://www/
.
http://www.facebook.com/groups/58714016431/
http://www.twitter.com/ALR_ATL
http://soundcloud.com/abstract-logic-recordings
Nuk
http://www.facebook.com/DJNuK
http://www.filth.fm
//
http://www.soundcloud.com/dj-nuk
DJ NuK is a 28 yea rold producer/DJ out of the Dirty South (Birmingham, AL/Atlanta, GA) DJ NuK has been on his quest to bring music to the masses for almost 15 years.. He has played almost every type of electronic music through the years (trance, breaks, house, progressive, dubstep, d&b), along with years of playing in metal and punk rock bands. Bands always seem to go their separate ways after a while, so NuK decided to go at it alone about 10 years ago, when he asked his folks for a set turntables for Christmas. He had never really taken the art of DJing seriously until about a year ago, but since then, he has been on the grind, non-stop, playing shows and promoting. He is quickly gaining recognition all over the Southeastern US, and one thing is for sure, he's tough to beat when it comes to energy, track selection, and mixing. DJ NuK is a member of Trillitary Atlanta with heavy hitters like Trillbass and Mantis.He also just landed a weekly show on
http://www.filth.fm
on Wednesday nights 9-11pm EST. When NuK is behind the decks, look out.
Squirmy
http://facebook.com/dgade
http://soundcloud.com/dgade/
One of the Bass Wars Residents, Squirmy is waiting in anticipation to melt your face. Mini me, as I call him because of his hustle, and his ability to mix pretty goodz.
Still trying to figure out how he got his DJ name, because I've stood next to him a few times and he doesn't seem to really squirm around at all. Oh well, all I know is last time I saw him play I was impressed, and you will be too (assuming you can see him above the table) I KID I KID!
Outside:
Quicktemper
(aka the one known as Chris Grass)
Drumstep/DnB/Dubstep/Comedy
Bios are for noobs.
All your bass are belong to us.
Prepare for teh doomz.
Zan
[QUAD RESIDENT DJ]
ATL BASS WARS / QUAD / SSS / DH
http://facebook.com/djzankoku
http://soundcloud.com/djzankoku
http://www.mixcrate.com/djzankoku
http://www.youtube.com/user/TheDubhed#p/u
Since moving to Atlanta from Mexico City in 2000, Zan has been entertaining the masses across the Southeast with his unique, aggressive and on-point style of mixing, sampling, tricks and mashups. He can keep a crowd going by spinning a mixture of genres such as Dubstep, Drumstep, Electro House, Trance, Breaks and some Drum & Bass.
Zan's energy to hype a crowd is as dynamic as the crowd itself. His musical style always focuses on the motto "evolve from and transcend to what's new." He shows his dynamic energy and evolving style of music by capturing the masses by surprise with his hard, headbanging drops and addictive basslines.
In 2010 Zan placed first at the "Billionaire Bass Brawl," a Dubstep competition. Over the last couple of years, Zan has put his name on the map as one of the top contenders in Atlanta's music scene. He pushes his unique style of DJing through self promotion and booking at the top Atlanta night clubs.
Zan is a fierce competitor in the dance music scene and his success and rising status will exponentially grow throughout 2012. Expect to see a new mix by Zan which will be released just in time for all of your voyages to Ultra Music Festival 2012.
SUPAPHRESHH
(Digital Bonaparte, Atlanta)
The world of "four to the floor" electronic dance music was introduced to a talented duo in 2011, by the names of George Sideris and Gene Williams - aka SUPAPHRESHH!!! Starting their phreshh project July of last year, they emerged from the humble beginnings of college radio to playing in front of packed crowds all over Atlanta, and eventually headlining shows in their home city and beyond in the Southeast. Every time these men take the stage, you are in for the ride of your life through whatever style they are feeling and sharing with the audience. Down to earth, and as humble as they come, don't underestimate their ability to transform the energy in the rooms they play their tunes. With their constant education and workings into production, as well as staying on top of the most upfront there is to offer in EDM, the journey Mr. Sideris and Mr. Williams are taking you on will create new perspectives and attitudes to what will surely be the sound of 2012. Come join their world - they'll show you the future.
Sorted
http://www.facebook.com/djsortedatl
Jamie Andersen aka Sorted aka Luke Skywalker has been rocking Atlanta dancefloor's for half a decade. Heavily influenced at a young age by nights spent in the notorious London clubs fabric, The Cantina from Star Wars, and The End. Sorted came back to the states eager to spread Europe's sounds and "The Force" to the masses.
Bursting on the Atlanta scene with his light saber in 2005, Sorted quickly joined the 404audio.com crew becoming one of the cities premier Drum and Bass DJ's. Cutting his teeth at the now infamous Transit club nights, Sorted learned the importance of building a vibe, while keeping dancefloor sensibility.
After building a name in Atlanta's underground, Sorted quickly found the need to branch into other genre's. Beyond Drum and Bass you can find him playing a mix of House and Indie Dance and Dubstep in clubs throughout the city. For promotional mixes, club dates, and other information visit:
http://www.djsorted.com
DaddyDough
http://www.facebook.com/DaddyDoughDJ
Drum & Bass / Dubstep
EchoLabSoundSystem, EchoLabRadio, Corinthian Recordings // Atlanta, GA
Over the past 20 YEARS, old-school RAVE ROYALTY DaddyDough AKA DOUGHBOY has played some of the biggest and most talked about venues and events all around the South East United States. A master behind the decks, his smoothness when mixing from tune to tune is rivaled by few in today's scene. Always striving to drop his signature style of Drum and Bass, DaddyDough has remained one of the biggest talents in the Atlanta EDM scene. His ability to mix any style of dance music sets DaddyDough a step above the nearest competition and is widely regarded as one of the top Drum & Bass djs in Atlanta, period.
DaddyDough is the real deal when he steps behind the decks and not many can say otherwise. DaddyDough has also shared the stage with some of the biggest names in electronic music, including LTJ Bukem, Bad Boy Bill, Simply Jeff, Soul Slinger, 187 aka Jordana, BT, Danny the Wildchild, Keoki, Spacemen, Trip Theory, Frankie Bones, Sandra Collins, Hellfire Machina, AC Slater, AK1200, and far too many more to name. With all these years mastering his craft, a set by DaddyDough is a sound that is sure not to be missed by anyone who truly calls themselves a lover of electronic dance music.....
Casper
http://www.facebook.com/pages/Satura...44540318898151
Since 1995 Ryan Harrison otherwise known by the monikers Casper and Saturat3d Phat has been involved with the Dance Music movement. In 1997 his Dedication to the scene and passion for the music would lead him behind the decks. Two years later he had earned residencies with Iris Promotions, Viynl Boy, 421 entertainment and various other promoters and clubs in Atlanta. His ability to keep the crowd hype and rock the dance floor was all that was needed to take him all over the Country to play alongside many of the top dance music artists in the world. Known as a turntable terror with layered mixing and battle style Cuttin and scratchin he always brings it funky and fresh. In 2003 his first production work" Right Now/Asteroid" with Dj Neutron & The West City AllStars was released on 20K Freaks Records with great response. He has since had hundreds of remixes and original tracks drop. With no plans to slow down this Dj, producer and promoter continues his quest to entertain crowds everywhere!!!
Drug Money
http://www.facebook.com/pages/DRUG-MONEY/366214832238
"DJ,beatmaker,promoter ,Tyler Wallin, age 24
from Chattanooga,TN merged his way from the diy hardcore/punk scene to the heavy bass dancefloor sounds in 2008 and has not let up since.Currently holding down 2 monthly residencies and sharing the stage with some of the best dj's/producers from around the globe ,such as Mayhem,J.Rabbit,Deathface,Wick-It The Instigator,Eoto,Alex B,Two Fresh,Flufftronix,Heroes+Villains,Rob Threezy,Jillionaire + many more,Tyler has managed to make his rounds through clubs and parties all over the southeast and has no plans of stopping any time soon.When not laying waste to the dancefloors ,Drug Money keeps busy working on new beats/mixtapes/and other musical projects ,so keep your eyes and ears open!"
BASSMENT:
Hyperion
http://www.facebook.com/HyperionUK
Hyperion comes from the Greek titans meaning 'god of light'. He is said to watch over his followers, spreading the light for everyone.However, I prefer to think of it as (strobe) lights and bass. Cover your ears
)
Ninja Flash
[QUAD Resident]
http://www.facebook.com/NinjaFlash
http://www.mixcloud.com/Dj_Ninja_Flash/
A well known and loved regular at QUAD, DJ Ninja Flash is known for his unique Dubstep and his energetic Drum and Bass.. Ninja Flash has been working hard to bring people New and Original stuff to enjoy.. A DJ Ninja Flash show is not just music.. it's a musical experience.
P.H.I.L
http://www.facebook.com/pages/PHIL/265490600137803
P.H.I.L. (Phil Ferguson) is one of the Co-Founders of Underground Syndicate and also one of its resident DJ's and producers. He got his start in the electronic music scene in Seattle, Washington. But shortly there after moved back home to Atlanta. After inserting himself into the scene here in Atlanta he quickly realized a love not only for DJing but also for bringing his vision of the scene to everyone here in Atlanta.
In the past 10 years he has thrown major events here in Atlanta working with some of the staples of the scene here as well as bringing in some phenominal Artists both nationally known and internationally known. His interesting style of mixing Electro, Glitch-Step, Dubstep and New School Mash-Ups has decimated the dance floor many a night here in Atlanta. Now he begins to bring his vision of music to the scene with his latest track, Black Bass Cannon (Bass Cannon Re-P.H.I.L.) and his original Electro House Production Live For The Weekend. This producer and DJ power house will keep you moving all night.
KIA
Kia aka Terry doesn't seem to have a bio that I can find online for some reason, but I do know he's an awesome DJ who has been spinning records longer than most of you have been alive. Not saying he's old or anything, it just means he knows what he's doing! It's been a while since I've had him out, so come out and support your old school junglist! BOH
Logam
http://www.facebook.com/Logamdnb
Biography
Mayhem, Trench, & Logam - Remember Me (Forthcoming on Subhuman)
Mayhem, LOGAM, & TL - Cryptkeeper (Forthcoming on Subhuman)
Celerity & FTK - City Below LOGAM RMX (Forthcoming on Black Reign LTD)
LOGAM - Your Mom Makes Dubstep (Forthcoming on Betamorph Recordings)
WRECKAGE MACHINERY - Cold Hands LOGAM RMX ( Esprit Records)
LOGAM & WRECKAGE MACHINERY - Repercussions (Forthcoming on Trust In Music)
LOGAM & CELERITY - On The Edge (Trust In Music)
MAYHEM & LOGAM - Centuria (Forthcoming on Santoku Records)
MAYHEM & LOGAM - Ouroborus (Forthcoming on Santoku Records)
LOGAM & TL - Dagobah System (Betamorph Recordings)
LOGAM & TL - Robotronic (Betamorph Recordings)
LOGAM & TL - CRIM & PARTYSON - IRON BEE RMX (Betamorph Recordings)
WRECKAGE MACHINERY & LOGAM - Waves (Santoku Records)
THE SQUARE & LOGAM FEAT JETT - Sounds (Corinthian Recordings)
PSYSUN & URUCUBACA - Dub Terror LOGAM & TL RMX (Speed Sound)
B1t Crunch3r - Sacrifice & Failure LOGAM RMX (Gradient Audio)
LOGAM & TL - Switchback (Public Records)
LOGAM - Glide (Corinthian Recordings)
LOGAM - Beautiful (Corinthian Recordings)
LOGAM - Namaste (Ocean Breeze Digital)
LOGAM - Feeding Starvation (Ocean Breeze Digital)
Description
http://soundcloud.com/logam
http://soundcloud.com/santoku-records
http://www.santokurecords.com
Hosts:
Armanni Reign
Arion Lee